Branched Peptides
A wide variety of synthetic branched peptides is available from Aurora Fine Chemicals. It could be in the form of either a Multiple Antigen Peptide Systems (MAPS) or a synthetic construction where core polypeptide branch has several peptidic scions: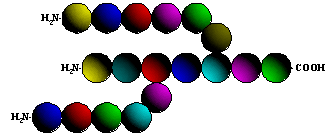 Conjugates
We offer our customers peptide-carrier protein conjugates, which could be described as products of coupling of synthetic peptides, and the according carrier proteins. Keyhole Limpet Hemocyanine (KLH), Bovine Serum Albumin (BSA), Ovalbumin (OVA) are most frequently used as the carrier proteins, nevertheless other proteins could be used at the customer's request.
Conjugations can be performed utilizing various cross-linking reagents, usually prompted to react either with SH-group of Cys-containing peptides or glutaraldehyde that reacts with free amino groups of N-terminal and/or lysine residues of peptides. The final product can be delivered as frozen solution, suspension, or lyophilized powder.
Peptide-oligonucleotide hybrids
We can synthesize bioorganic chimeric molecules constructed of one or two peptides and coupled through linkers to 5'- and 3'- ends of an oligonucleotide (short single strand DNA); hybrids of peptides and double stranded oligonucleotides are also available. Order amounts can vary from micrograms to tens of milligrams.
Aurora's services are available as follows: